Officer's death points to dangers of no-knock warrants | News
RIVERDALE, Ga. – The death of a Riverdale police officer points out the dangers of no knock search warrants. 
Riverdale Police Major Greg Barney died Thursday after being shot twice while assisting officers serve a warrant at an apartment.
While every facet of law enforcement comes with some kind of risk, trying to get into the home of a potential drug dealer or convicted felon can certainly up the stakes. 

11Alive's Rebecca Lindstrom
talked with several police departments who said they go out of their way to avoid no knock warrants because of the danger.  Others rely on teams with special training, like their SWAT or drug taskforce.
The Georgia Public Safety Training Center says every time it offers a class in high risk warrants, the seats are full. Law enforcement from across that state come to learn how to assess the dangers and prepare for entry.
"The real danger involved in always the unknown, regardless of what we know about the occupants or the structure itself," said GBI inspector Chris Hosey.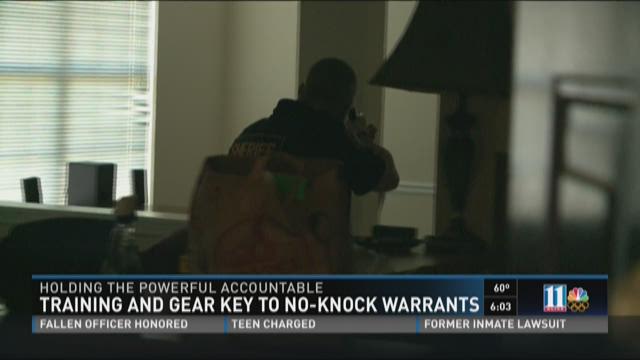 Hosey helps train GBI agents on how to execute warrants. He says it takes training and the proper gear.
"We require our agents to be armed -- protective ballistic vest and helmets" he said.
The level of Officer Greg Barney's training is unknown, as is why he chose to join the search without protective gear. Neither Riverdale or Clayton County Police provided us their search warrant policy, but the Public Safety Training Center recommends it, and we received policies from several local jurisdictions that require it.
"It's all a matter of being prepared as best we can be," Hosey said. "Attempting to deal with those unknowns that may be out there, being trained for them and being mentally and physically prepared for it."
Hosey said executing a search warrant is no more dangerous than any other job in law enforcement.  But last year two officers in the United States died doing just that.  Already this year, two more lives have been lost. Hosey says it's a risk officers take to keep the community safe.
"I think that's the ultimate goal of any police officer -- or anybody in law enforcement -- that should be their driving force every day," Hosey said.